As we well know, mosquito season is here! Gregory has been going into overdrive to defend our residential customer's homes. Last summer, there were several confirmed cases of West Nile virus found in South Carolina, and Gregory was called in to partner with the government to aid in the protection of public health by eliminating the threat of mosquitoes. Gregory Pest Solutions was also awarded the state term contract for mosquito control which allows for set pricing for public institutions in the state of South Carolina. Union County and many others have already taken advantage of this contract in order to keep these nuisance pests away.
Mosquitoes: what do they look like and what do they do?
Mosquitoes come in lots of different shapes and sizes. After all, there are over 3,000 documented species worldwide, and the US is home to over 150 of them! But generally speaking, they possess slender bodies, one pair of scaled wings and long legs. There's also that distinctive, high pitched whining sound that's enough to make anyone wary.
Although mosquitoes are known carriers of diseases, the diseases do not originate in the insect most of the time. A mosquito is actually a "vector." A vector is an organism that spreads a disease or parasite from one animal or plant to another. Other vectors include fleas, ticks and even flies!
To further demonstrate what a vector is, we'll discuss the West Nile virus. This virus is a zoonotic disease, meaning it originates in animals, specifically birds. The Centers for Disease Control and Prevention (CDC) says when some birds become infected, they will develop high levels of the virus in their bloodstream. Mosquitoes will bite these birds and can then pass the disease onto the next thing they bite, be it bird, human or another type of mammal. If a human or other type of mammal were to contract the virus, they would not develop high levels of the virus within their bloodstreams. Because of this, they are called "dead end" hosts. Since there is not a high level of the virus within the dead end host's blood stream, a mosquito would not be able to spread the virus from one mammal to the other.
Mosquito Tips and Tricks
The good news is, only about 20% of those infected will experience symptoms of the virus, according to the CDC. But it never hurts to be careful with mosquitoes. Take a look at these prevention tips to keep you and your family safe.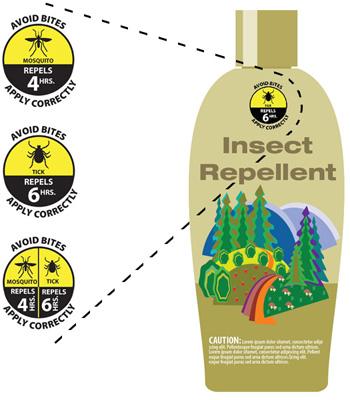 Drain any standing water in spare tires, bird baths or pet dishes. Mosquitoes need standing water to reproduce, and by removing water sources, you make your home more unappealing to these pests.
Wear insect repellant containing DEET, IR3535, oil of lemon eucalyptus, or Picaridin, and check the label of the repellent for the diagram above.
To further protect the skin, wear long pants, long-sleeved shirts and closed-toed shoes.
Consider partnering with a professional pest control company. They can help rid your yard of unwanted mosquitoes by treating places mosquitoes like to hide.
Going camping? Mosquito netting isn't a bad idea to keep over the mouth of your tent or the top of your hammock.
Ready to get Started?
Our technicians are ready to help you get rid of unwanted mosquitoes. Call us today!
Schedule Service
CALL 800-922-2596