Spring is just around the corner! With the cold weather moving out, all of us will want to get outside and enjoy the sun. There are a lot of ways to enjoy your lawn, but here are four other ways to keep the kids busy while soaking up the vitamin D! If you decide to play any of these games, post a picture on Facebook and tag @SmarterPestSolutions! We'd love to see your family enjoying the outdoors, and you might even make it to our Facebook page!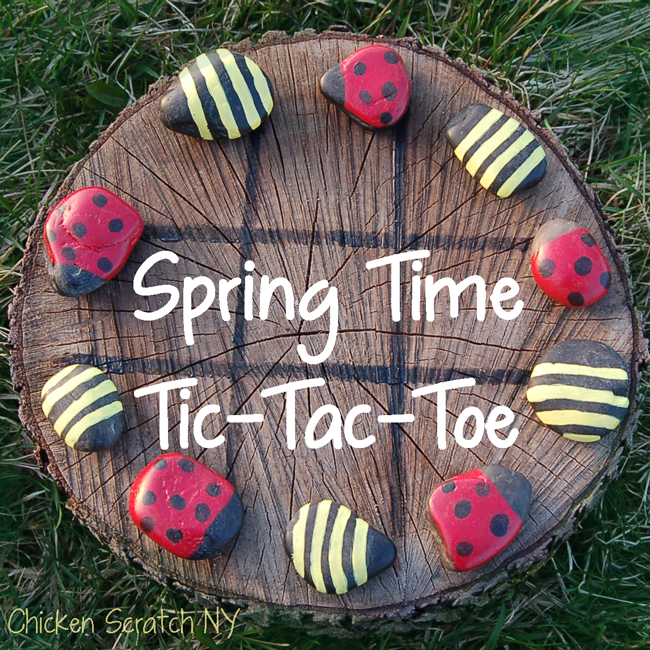 Outdoor Tic-Tac-Toe
This game is easy to play and easy to make. You can also get the kids involved in finding and painting the stones.
The instructions are simple. Go outside and select two groups of five stones. Ideally the stones will be smooth and flat as it is easier to paint them that way. You will then need to brush off the bits of dirt and debris found on the rocks. To pain the stones, you will need red, black and yellow paint. You will most likely need more than one coat of paint for the stones. So this part could be time consuming. And obviously, you don't have to paint bumble bees and ladybugs, just be sure that the paint you purchase is nontoxic if younger children are helping. After the stones are decorated, you will need to create a game board. You can create one outside by using sidewalk chalk on an old tree stump, or you can use four long sticks to create the board, too! If you want to play inside, grab some cardboard and draw the lines on with a marker. Once the board is made and the stones are dry, you're ready to play!
Giant Jenga
Jenga is a tried and true classic that has stood the test of time. This over-sized Jenga is really easy to make and customize. Go to your local hardware store and select 2×4 planks that don't have a lot of holes or knots. You will need enough 2×4 boards to cut out 48 ten-and-a-half-inch pieces. You can cut the boards yourself, or you might be able to ask someone at the hardware store to do it for you free of charge. After the boards are cut, you will need to sand the edges of the pieces to help them glide smoothly across each other. Once the edges are smooth, you can leave boards plain, or you can stain them or paint them different colors.
Giant Matching Game
This game is fun for everyone, and super easy to make. The only things you'll need are cardboard, paint, paint brushes (or spray paint) and stencils.
First, cut the cardboard into 12″ x 12″ pieces. Then, use the stencil to paint shapes onto the cards. This game is great because you can make it as big or as small as you want by using different stencils or different paint colors to create new pairs of matching cards. To get free downloadable stencils and more detailed instructions go to StudioDIY.com.
Water Balloon Dodgeball
This game is fairly self explanatory. Fill up water balloons and throw them at each other to your heart's content. However, water balloons do take forever to fill and can be a pain. Especially when you have to pick up the bits of rubber left behind. An great alternative are these sponge water bombs! These are reusable and more environmentally friendly than the water balloons. Learn how to make them at TheChicSite.com!